The RxSight Light Adjustable Lens is now available in New Jersey at The Laser Vision Correction Center
During a notable event at The River Drive Surgery Center in early June, Dr. Miller was the first surgeon to perform the successful implantation of the RxSight Light Adjustable Lens. The second surgeon to perform surgery using this cutting edge technology was Dr. Mendelson. Two weeks prior to this, Dr. Miller was also the first surgeon at the Livingston Surgery Center to implant the RxSight Light Adjustable Lens.

Achieving Customized Vision With the Light Adjustable Lens™
The Light Adjustable Lens is the only intraocular lens (IOL) that allows vision to be optimized following lens implantation and recovery. If you and your ophthalmologist choose the Light Adjustable Lens, the first step will be to safely remove your cataract and implant the adjustable IOL. The cataract extraction and IOL implantation procedure is identical if an adjustable IOL is chosen.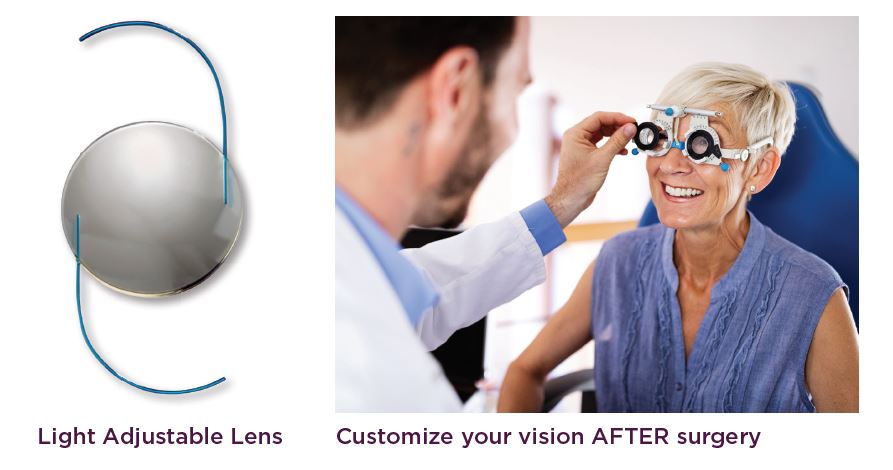 Unique to the Light Adjustable Lens
is the need to return to your eye specialist for a vision exam once your eye has healed. Before selecting a prescription for your adjustable lens, you will be able to evaluate and compare potential vision outcomes based on your unique preferences and lifestyle needs during this visit. Then, your doctor will apply a proprietary light treatment that precisely reshapes your implanted lens in accordance with the visual correction required to meet your specific prescription. You may require three to five total light treatments to achieve your vision objectives.