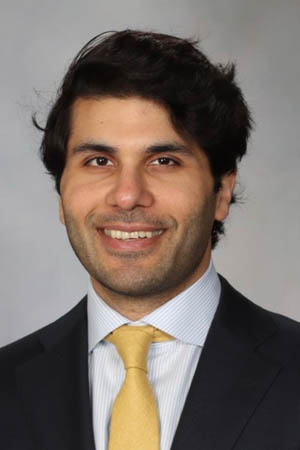 Board-Certified Ophthalmologist
Oculofacial Plastic Surgeon
Dr. Ahmed B. Sheikh is an oculofacial plastic surgeon serving the state of New Jersey.
Dr. Sheikh was born and raised in Jersey City, New Jersey. He went to medical school at Rutgers – New Jersey Medical School and afterwards completed a residency in ophthalmology at Hofstra University – Zucker School of Medicine.
After residency, Dr. Sheikh trained under the tutelage of Carol Shields and Sara Lally to complete a fellowship in ocular oncology at Wills Eye Hospital. During this fellowship, he became skilled in the diagnosis and management of eyelid, intraocular, and orbital cancer. Dr. Sheikh then went on to complete a fellowship in oculofacial plastic surgery at the Mayo Clinic. His mentors were Dr. Elizabeth Bradley, Dr. Lily Wagner, Dr. Andrea Tooley, and Dr. George Bartley. During this fellowship, he received additional aesthetic surgery training with Dr. Kristin Tarbet in Bellevue, Washington. Dr. Sheikh received a Fellow Teaching Award two years in a row during his fellowship at the Mayo Clinic.
Dr. Sheikh performs reconstructive and cosmetic surgery of the eyelid, tear ducts, and orbit. His specific interests include orbital tumors, orbital and facial trauma, anophthalmic socket reconstruction, thyroid eye disease, eyelid and facial reconstruction after Mohs surgery, and tear duct surgery. He also performs cosmetic brow and eyelid surgery, including upper lid blepharoplasty, lower lid blepharoplasty, and endoscopic brow lift.